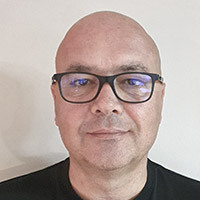 I have been an entrepreneur since 2004, usually in tourism. I was successful in building up a prospering medium-sized enterprise aimed at arriving clientele. Somewhere around 2015, I began thinking about another activity that would divide risks, would be fun, and could be started at a time when it seemed that everything already exists, and everything has already been come up with. One of the sources of such ideas are franchise concepts, where even I found something that piqued my interest.
In its interior, the Butterfly House is somewhat of a unique concept. Despite of my best efforts, I did not find any other brand of functioning interior butterfly houses anywhere in Europe or even outside of it, only the Papilonia brand. Because this is a functional ecosystem using artificial lighting, and thus it is placeable into any sort of indoor premises with high traffic of people, it made sense to me. From making my decision and the first contact with the franchisor, we began looking for suitably located premises. Somewhere, where people naturally convene, shopping centres, aqua centres, perhaps larger museums, but even, for instance, a vestibule in the metro or at a train station. Our choice was the largest toy store in the country, located in downtown Prague, called Hamley's. After agreeing upon the rent and the operation conditions, we elaborated the project and began constructing and realising the interior. The manual that we received along with the franchise was a great help. From the planning of the construction to the air conditioning, fire alarms, and all construction work, to the interiors and the ensuing operations. The experiences of the other franchisees also helped. After launching, and the so-called test flights, we were pleasantly surprised by the positive reception of visitors and the unexpectedly quick return on investments.
This is a brief, and of course, simplified version of the process beginning with the idea and ending with the realisation. At present, we have a functioning butterfly house that generates an interesting profit. I consider operations and its management to be doable, and in comparison to my other entrepreneurial activities, also relatively simple. I have been an entrepreneur for many years, and I can absolutely and responsibly confirm that the Papilonia Butterfly House is so far the most pleasant and least stressful business activity that I have ever done. I am considering another franchise of the same type in another city, and I am glad that I made the decision to join this project.
Ing Zbyněk Černý, Executive Secretary